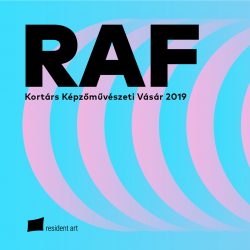 RAF – Resident Art Fair 2019 – Contemporary Christmas Art Fair in the A.P.A Gallery
More than 100 up-and-coming and estabilished artist from Hungary is going to be exhibited and purchased in December on the  Resident Art Fair 2019.
Young n' Fresh & Collectors' Selection
Artist Ákos Bánki and art historian János Schneller selected the works and invited the artist's to exhibit and sell their works. Painting, photo, sculpture, graphic all waiting for the visitors.
Online catalogue >> HERE
The Resident Art Fair opening on 10 December 2019 at 7 pm and on show until 22. December 2019. Every day from 12 am – 7 pm.
Venue: A.P.A Gallery (Atelier Pro Arts) – 1085 Budapest, Horánszky street 5.