Stefan Osnowski: ENTRE – between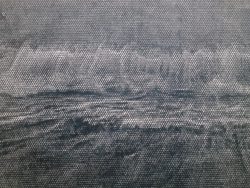 ​
The serie of large-scale monochromatic woodcuts shows images of an empty Seascape on the west coast of Europe, in southern Portugal. This landscape is characterized by its broad boundlessness.
The original digital photographs are transformed during a month-long time-consuming handwork into a digital barcode which will be carved into wood to be finally printed by hand on paper. The use of any mechanical equipment is deliberately avoided. The traditional analog printing of images and the associated loss of information compared to the original photographs, exerts a peculiar tension by underlining the contrast between the digital immaterial image and the handmade physical print.
The exhibition runs until 27th of July 2018. Opening hours: Tuesday-Friday 1pm-6pm